Guide to Saugus Area Public Transportation
Saugus' public transportation needs (like Boston's) falls under the mantle of the MBTA, a.k.a. the "T". Thus it is not surprising that the vast majority of public transportation in town is currently provided by the "T".
Bus Routes & Schedules
"T" Rt. #424 Wonderland to Salem Depot (via Eastern Avenue & Essex Street)
"T" Rt. #426/426W Central Square, Lynn to Haymarket Square, Boston (via Cliftondale, Saugus)
"T" Rt. #428 Oaklandvale, Saugus to Haymarket Square, Boston (via Granada Highlands, Revere)
"T" Rt. #429 Linden Square to Central Square, Lynn (via Myrtle Street and the mall)
"T" Rt. #430 Appleton, Saugus to Malden Center Station (via the Saugus Mall & Cliftondale)
"T" Rt. #450 Salem Depot to Boston (via Lynn Marsh Road, & Highland)
"Yellow Line" buses shuttle customers between the Saugus Mall and assorted other shopping centers; these are not run by the "T" and little is currently known of their schedules etc. They might even be a myth; if anyone can confirm or deny their existence (and hopefully provide a schedule) please send e-mail to . Update: it has now been officially confirmed that while the "Yellow Line" did in fact at one time exist, its service has been "indefinitely suspended". It was run by the malls themselves and never heavily advertised. It could be brought back if there appears to be a demand for the service.
---
Trains
While there is no subway access in Saugus, two lines come close, the Orange Line ends in Melrose (Oak Grove Station) and passes through Malden (Malden Center Station) and the Blue Line terminates in Revere (Wonderland Station). A live view of train locations can be found on BostonTrainTrack.com.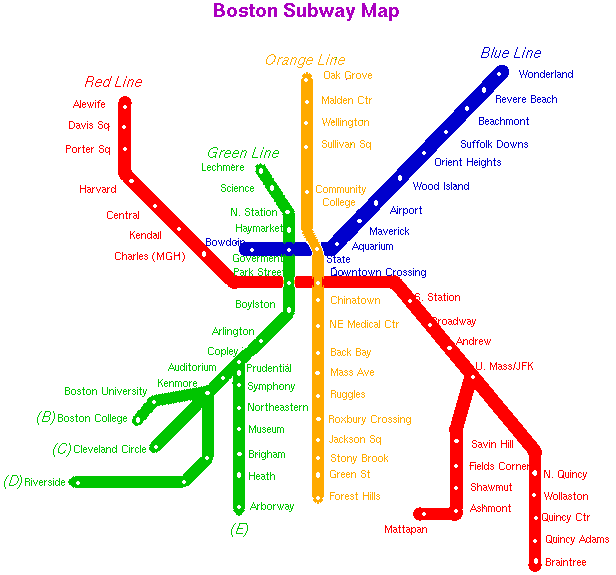 Note that Toad Hollow Software Co. has a free application for Newton hand-held computers that helps navagate the Boston subway system. The MBTA also maintains a page of third-party apps to help use the MBTA.
Also, the Haverhill/Reading commuter rail line passes through nearby Wakefield and Malden Center.
---
The Association for Public Transportion may also have some information of interest. It covers not just Saugus and Boston, but New England in general.
Finally it should perhaps be noted that the Saugus Historical Society has published a book on the history of public transportation in Saugus.